SonoAnalyzer OE
SonoAnalyzer Online Edition - New purchase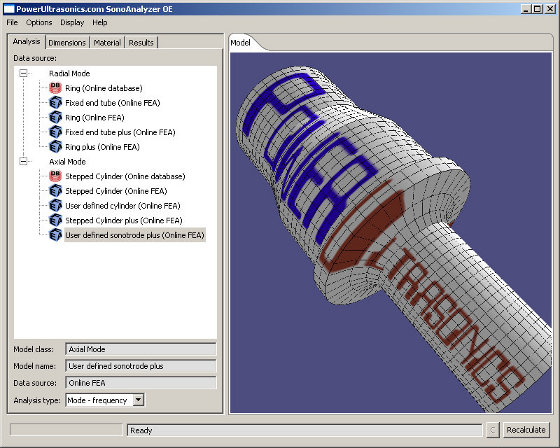 PowerUltrasonics SonoAnalyzer software makes the power of finite-element analysis accessible to all! With no specialist expertise required, this desktop software takes the user through a simple process to define the sonotrode and displays pre-calculated and on-demand finite-element analysis results.
The purchase price includes one year of annual maintenance - online services, version updates and support for a period of one year. At the end of this time additional annual maintenance periods can be purchased, or credits for the online analysis services can be purchased as required.
This product gives the purchaser:
License to use the software on a single-machine
Downloadable new releases as available for MS Windows 64bit
Full access to all available online databases for one year *
Full access to all available online on-demand Finite Element Analysis models for one year *
Support with downloading, installing and using the program for one year **
The license does not expire but to continue using the software after the first year you will need to purchase an additional online service subscription. See the Products page for more information.
On-demand FEA models available now
On-demand FEA means that our shared analysis server analyses the model precisely as you define, whenever you request it. Speed depends on the complexity of the model, typically 30 to 60 seconds. Once analysis is complete you can obtain certain pre-defined plots from the postprocessor, including animation, Von-Mises stress, displacement and axial-displacement.
Fixed-end Tube
Basic ring
Stepped sonotrode with solid core or through hole
User-defined sonotrode (circular-section) with solid core or through hole
Conical sonotrode with solid core or through hole
Exponential sonotrode with solid core or through hole
User-defined rectangular (block) sonotrode
Stepped rectangular (block) sonotrode
How to order
Please click "Add to cart" below and continue with the store checkout. Payment is accepted by credit card (using PayPal), check or bank transfer. You don't need to register for this site before checkout - a user account will be created for you automatically if you don't already have one. Download access and product key will be provided only after your payment has cleared - immediate access is only possible with PayPal / credit card payments.
The small print (please read)
* Access to online services is shared between all users. Single-user license and AUP applies. More details.
** Support is limited to your downloading, installing and use of the SonoAnalyzer program on any of the available models. Support does not include help with interpretation of results, help applying the results to your own process and equipment or further analysis work beyond the scope of the program. However, such additional support may be available at extra cost. More details.
Prices are shown in Australian dollars and include GST for Australian clients To ensure correct GST calculation, Australian clients are requested to set up a user account before ordering.