SonoAnalyzer Free / Demo
SonoAnalyzer Free / Demo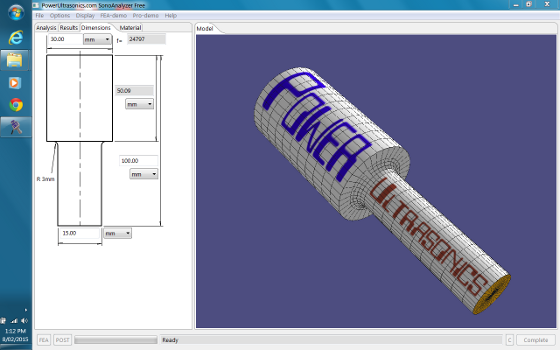 Update for version 2.0.4, May 2020:
The new version 2 SonoAnalyzer Free now includes example results files for all current OE / Pro models including the new STEP-import model. The older (and much more limited) FreeDb models can still be installed as described below.
---
PowerUltrasonics SonoAnalyzer software makes the power of finite-element analysis accessible to all! With no specialist expertise required, this desktop software takes the user through a simple process to define the sonotrode and displays pre-calculated finite-element analysis results. The free version is limited to three simple shapes and a reduced range of dimensions. No enhanced results (stress / displacement plots) are available for these analyses.
In addition, the Free / Demo version can be used as a viewer to display results saved from paid versions of SonoAnalyzer (OE or Pro). SonoAnalyzer results files have the extension .saz. Each file is specific to a single analysis - changing materials, dimensions or other analysis options is possible only on the paid versions.
Saved results may also include some extra information from the finite-element postprocessor, including stress and displacement plots. SonoAnalyzer OE offers a limited range of standard images (found under "FEA" in the menu) which can be imported into SonoAnalyzer as images and saved. SonoAnalyzer Pro offers the same, plus the ability to view results directly in the postprocessor, including a wider range of display options plus the option to pan and zoom as required, eg. to zoom in on a high-stress location. Whatever is shown in the postprocessor display can be captured, imported into SonoAnalyzer and saved either as an individual image or part of a results file.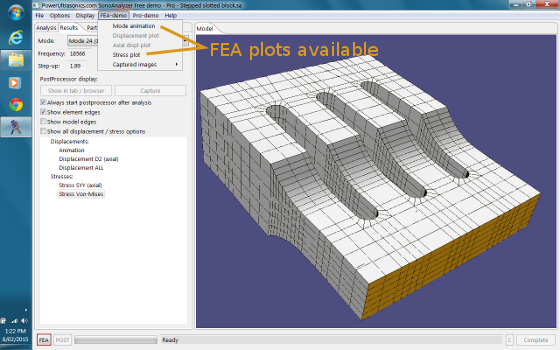 Where saved to a results file and loaded into SonoAnalyzer Free the saved plots can be found under the "FEA-demo" menu. Note that every plot is specific to a single mode of vibration (chosen from the drop-down menu on the "Results" tab). Where options under the "FEA-demo" menu are disabled (greyed out), this indicates that the plot was not saved for the specified mode.
For an even closer simulation of SonoAnalyzer Pro, the Free / Demo version can also run the full finite element analysis and display results in the postprocessor. The SonoAnalyzer Pro license includes access to managed FEA cloud-servers but this option is not available with SonoAnalyzer Free. So to achieve this requires using one of the free FEA server packages:
install one of the free FEA analysis server packages from the Pro support packages page.
in the SonoAnalyzer Free menus choose "Pro-demo" -> "FEA server(s)" and set up your server.
SonoAnalyzer Free will connect to your selected FEA server, indicated by a green "FEA" button bottom-left of program window
click "Recalculate" to re-run the finite-element analysis on your server
once analysis completes (may take a few minutes) the postprocessor should start automatically, indicated by a free "POST" button.
If the Cygwin-CalculiX server is in use, the postprocessor will pop-up as a separate program window.
If the VirtualBox package is in use, go to the Results tab and click the button marked "View in tab/browser"
For further testing of SonoAnalyzer OE, including the ability to create new designs over a wider range of material properties and dimensions, please see the ten day PAYG license which offers equivalent functionality to the full OE version including unlimited online analysis runs during the trial period, subject to AUP.
For further testing of SonoAnalyzer Pro we offer a new consultancy service to create models according to your requirements or current design. Results are delivered as SonoAnalyzer results (.saz) files to be viewed on SonoAnalyzer Free (or any other version).
For more details and product comparison please see the Products page for more information.
Free database (FreeDB) models available now
Database models depend on a library of pre-generated results accessible through your internet connection. Results are typically returned in a few seconds.
Basic ring
Fixed-end tube
Stepped sonotrode
These are not included with the program installation file but must be downloaded separately and installed using the menu option File -> Install Free Db files.
The zip file is linked on the Downloads page. (Warning - large download: 790MB)
Example results files for demonstration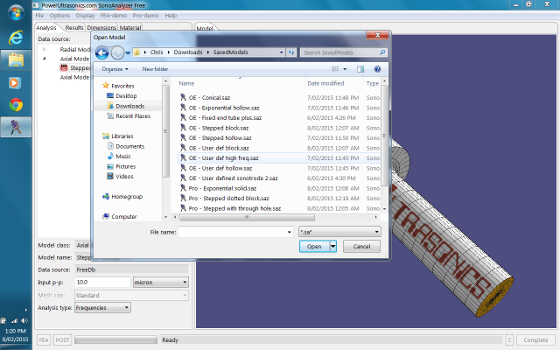 A zip archive of saved results files for demonstration is linked on the Downloads page.
Unzip the downloaded archive and place all files (.saz) in a convenient folder. Then in the SonoAnalyzer Free menu, choose "File" -> "Open" and select a file.
How to obtain the free demo version
SonoAnalyzer Free is intended for all Windows 64-bit versions from Vista onwards. The latest installer file is linked on the Downloads page.
Note that in addition to the installer you will need to download either the FreeDB or some results files (or both), as described above, in order to use the program.
No purchase, registration or license activation is required. No online access is provided with this product and no support is included. However if you would like to be added to our mailing list and kept up-to-date with major new releases and special offers (on past performance probably no more than about 2 messages per year!) please register for this site and add a note of your interest.