SonoAnalyzer Demo
SonoAnalyzer Demo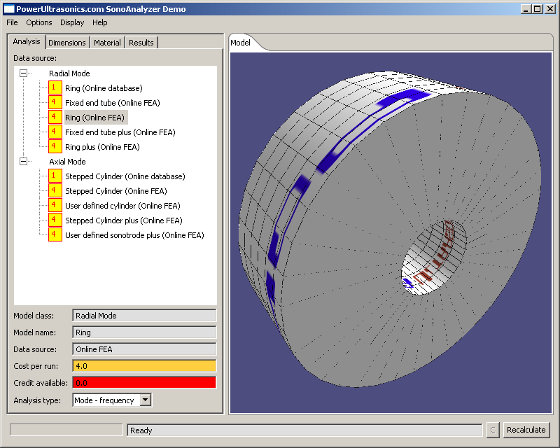 PowerUltrasonics SonoAnalyzer software makes the power of finite-element analysis accessible to all! With no specialist expertise required, this desktop software takes the user through a simple process to define the sonotrode and displays pre-calculated and on-demand finite-element analysis results.
This is a fully-functional demo version of the SonoAnalyzer Online Edition with a special license that limits the number of analyses that can be performed.
The demo license gives you 20 50 "analysis points", which will permit up to 20 50 database analysis runs or up to 5 12 on-demand finite-element analysis runs (or some combination of both types). The option to download a stress plot or animated image from the finite-element postprocessor (FEA -> Download .gif animation) is also charged at 1 analysis point no longer charged. The license expires when all 20 50 points have been used or 1 month from activation, whichever comes first.
Update: Demo licence upgraded to provide more free analyses. Existing licenses have been updated to match.
For more extensive testing please see the One-month PAYG license, offering unlimited analysis runs during the trial period, subject to AUP.
After expiry the demo license will only permit repeats of analyses you performed before (results are cached for at least a week and typically several months) or analysis of the default geometry and material for each model. To use the latter choose "Aluminium L168" on the materials tab and File -> Model -> Reset on the main menu.
For any further use of the SonoAnalyzer program you will need to purchase one of the full versions - see the Products page for more information. The demo version can be upgraded to SonoAnalyzer OE at any time by entering the new license code provided on purchase.
Online database models available now
Database models depend on a library of pre-generated results accessible through your internet connection. Results are typically returned in a few seconds.
Basic ring
Stepped sonotrode
On-demand FEA models available now (updated for version 1.3)
On-demand FEA means that our cloud-server analyses the model precisely as you define, whenever you request it. This process is slower than a database lookup (typically 20 to 40 seconds) but offers slightly more accurate resonant frequencies and, in some cases, additional modes of vibration not included in the database results.
Fixed-end Tube
Basic ring
Stepped sonotrode 

<- Updated!

User-defined sonotrode (circular-section)

<- Updated!

Conical sonotrode

<- New!

Exponential sonotrode

<- New!

User-defined rectangular sonotrode
Stepped rectangular (block) sonotrode
How to obtain the free demo version
To obtain your free demo version, please click "Add to cart" below and continue with the store checkout. Choose "other" as the payment method and complete checkout. You don't need to register for this site before checkout - a user account will be created for you automatically if you don't already have one - but if you do want to register first, you're welcome to do so. All orders will be manually reviewed before acceptance. Please provide full and accurate information where requested. After placing your order, please wait up to 24 hours for it to be approved and your download and product key to become available.
The small print (please read)
Demo software provided free of charge with no support.
Limit one per person. Attempts to circumvent this by using a fake name and / or address may result in cancellation of your order.
Access to online services is shared between all users. Single-user license and AUP applies. More details.